Announcements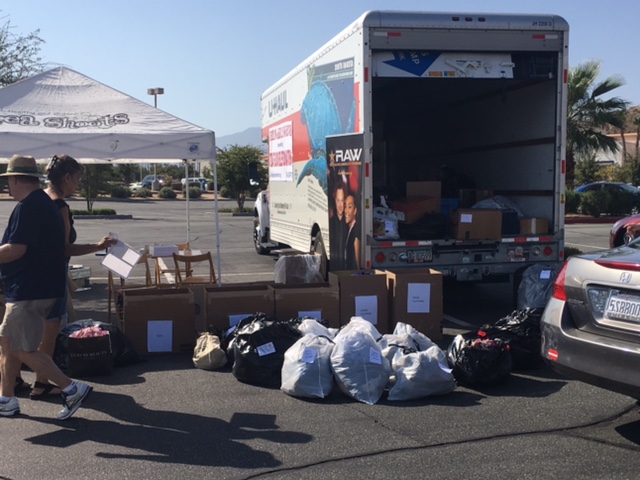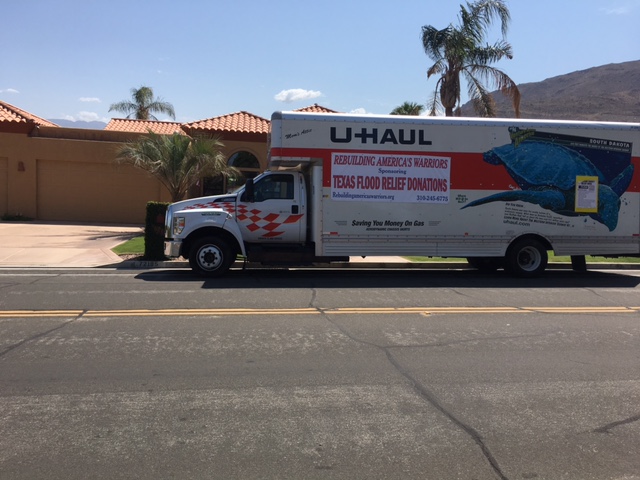 On Friday, Sept 1, R.A.W. held a drive in Palm Desert, CA to collect items for the victims of Hurricane Harvey. A 26 ft truck was rented and before it was done enough donations to fill 4 trucks were received. R.A.W.'s truck was filled within two hours. Fortunately the Marriott Hotel stepped up to receive the additional and will, jointly with other Coachella Valley Hotels, organize trucks to Texas.
R.A.W. is headed to San Antonio where R.A.W. wounded veteran Bob Ehrig will follow R.A.W.'s truck in their own truck of donations into Houston. Bob has arranged for local wounded veterans to meet the truck to help unload once it arrives.
Truck is being driven by Ron Fairly, a member of R.A.W.'s Board of Directors and accompanied by Maggie Lockridge, R.A.W.'s Founder. The United Way of Texas is arranging a destination according to each relief center's needs.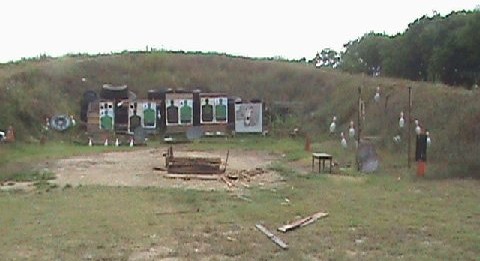 On May 27th, 2017, Ron Przybylski, owner of the Ronski CHL Course in Waxahachie, TX, held his second RANGE DAY event to raise funds for RAW. This Course is a shooting range for various distance/types of weaponry. The event was sponsored by local businesses...Cotton Patch, Faith Armory, Sonic, and many individuals who donated time and material.
Texas Civil Defense, Texas Law Shield, and the local constable participated. It was a day long event with raffles, competitions, and a finale that included blowing up a piano in a very melodic explosion. A fun time was had by all. RAW is extremely grateful for civilians who donate time, and so much energy, to raise donations to help wounded and disfigured veterans.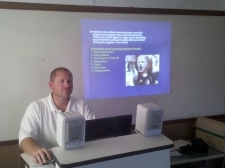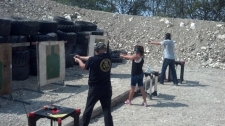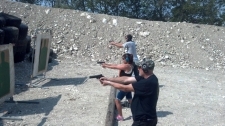 Above are photos of Ron and his shooting range. His website is www.ronskichlcourse.com.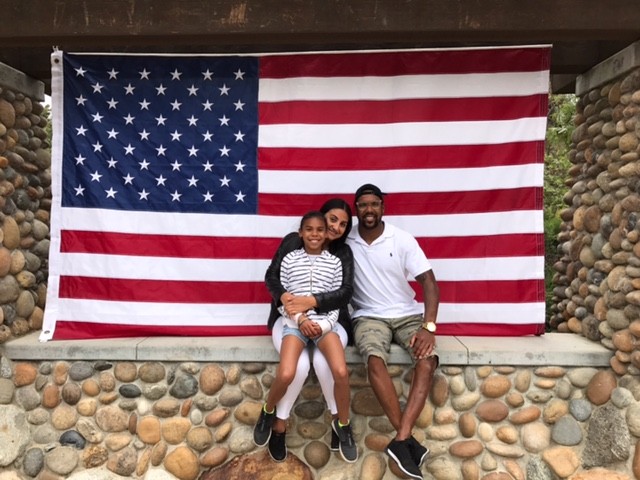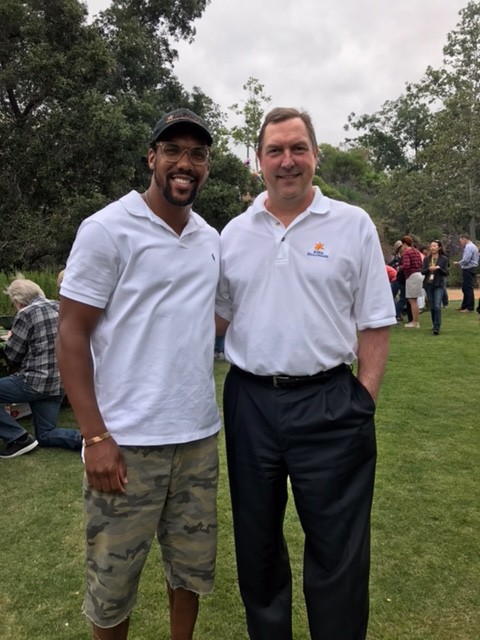 On May 25th Apria Healthcare of Lake Forest, CA. held their annual Memorial Day Company picnic and, once again, honored a RAW wounded veteran. LyVell Gipson with his daughter Atiana and dear friend Alex, spent the day with music, fanfare, a fantastic buffet, and the senior executives of Apria Healthcare.
He is shown here with Dan Starck, CEO of Apria Healthcare. They presented LyVell with a check for $2,716.00, the funds made from a pretty sensational, community supported, raffle.
Pictured above are LyVell, Ron Fairly, Alex and Atiana.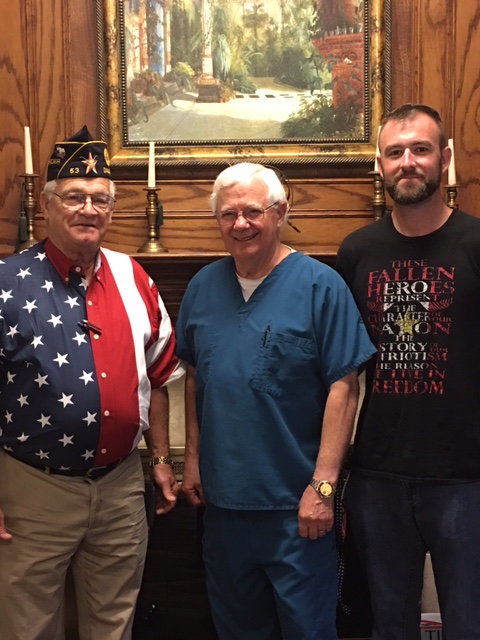 Mr. Brown from the American Legion happened to stop by Dr. David Wilhite's office during an initial consult with a new RAW Army Iraq war veteran, Michael Wells. Dr. Wilhite has now surpassed his 50th restoration for RAW veterans. Pictured: Mr. Alton Brown, Dr. David Wilhite, Veteran Michael Wells
Chad Hecox, Before & After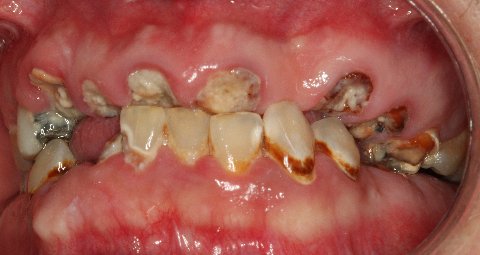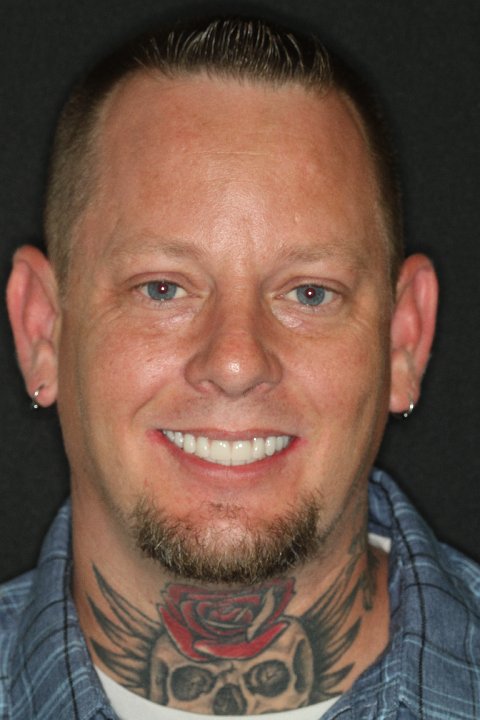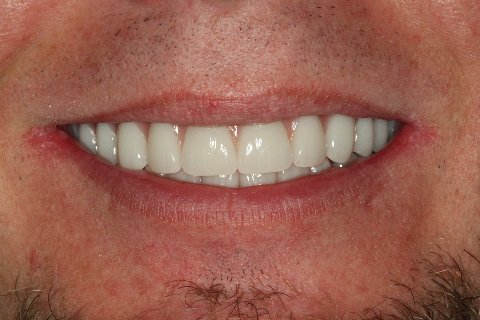 Chad came to RAW in June of 2015. His restoration was completed by Dr. David Wilhite DDS MAGD, of Plano TX. Chad is one of over 50 RAW veterans that Dr. Wilhite has treated. Dental restoration is life changing, Chad had infection that needed treatment, extractions, implants, dentures. RAW will be forever grateful to Dr. Wilhite, his wife Nancy (Streak), and his entire staff for their generosity to our veterans who contracted this condition while deployed to Iraq and Afghanistan.
Apria Healthcare's Salute to Veterans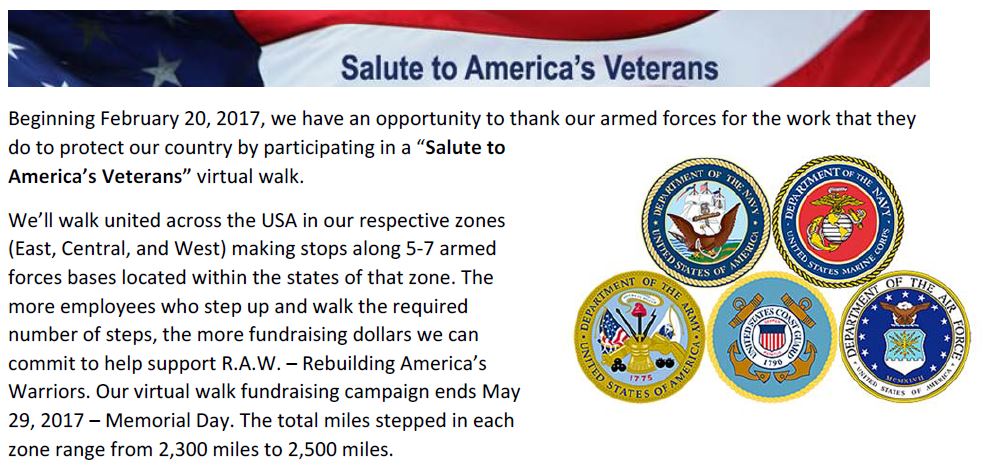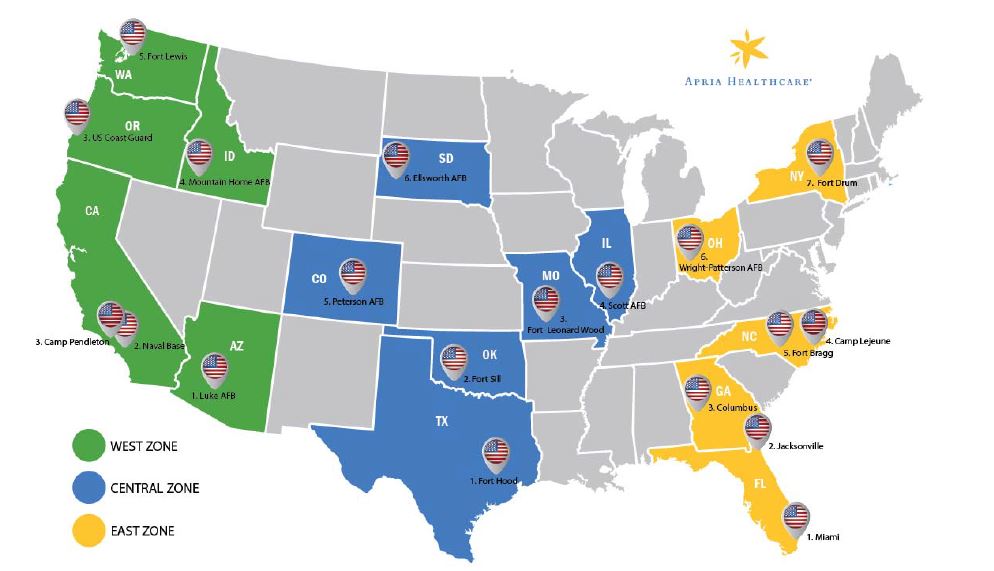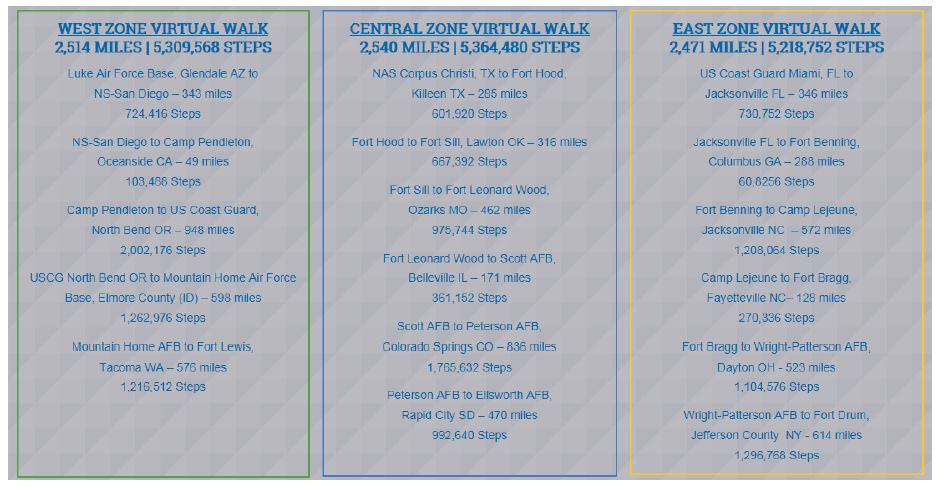 The Soldier and the Squirrel visited Hesby Oaks Elementary in Encino, CA with an assembly of grades 2-6. Author, Micaela Bensko, Vice President of RAW, spoke followed by RAW's wounded warriors Tony Lino and Paul Mcquigg, reading the story followed by Q&A. The Soldier and the Squirrel introduces our youth to the Purple Heart.
On March 9th, 2017 Murray Ross, past President, delivered a check in the amount of $1,000.00 to RAW. These funds were raised on RAW's behalf at the yearly event held by the CVRC Club in Thermal CA. Hundreds of owners of remote controlled aircraft varying in value from $250 to $7,000.00 demonstrated their skills at high altitude performance. Barrel rolls, stalls, loops etc. were only a few of the maneuvers. We hope to be involved again next year as it was thrilling to watch.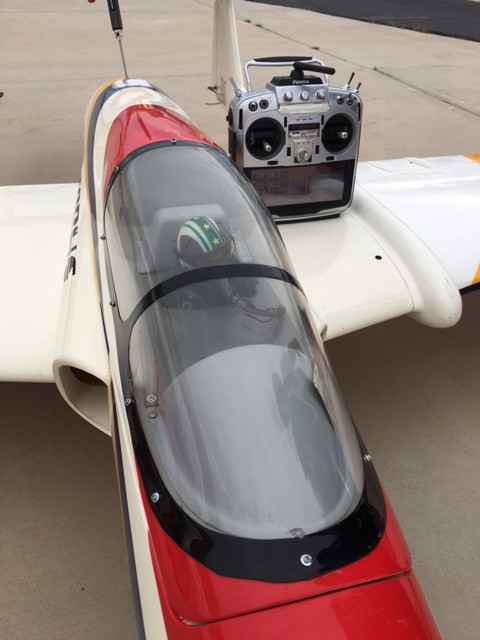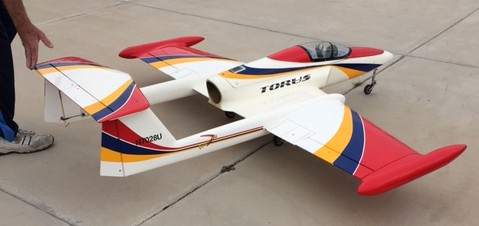 On February 17-19, 2017 the Coachella Valley Radio Control Club in Thermal, CA will hold an exciting event featuring the finest and fastest model airplanes in CA. These planes cost from $500 to $10,000 and fly up to 280 mph. This event will raise funds for RAW, would love to see you there. Go to www.cvrcclub.com for more information.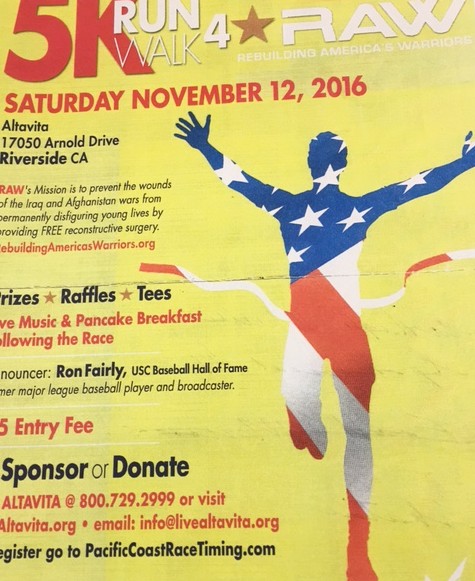 On Saturday, November 12th, Altavita sponsored their second RUN FOR RAW in Riverside, CA. to raise donations for RAW's mission. RAW warriors Tony Lino, LyVell Gipson, and Leshonda Gill took part in the event along with over 150 others. Miguel Fausto, Andy Zarate, and Ryan Bennett took the honors of First, Second and Third place finishers. An absolutely perfect day, dozens of volunteers to orchestrate the event, a pancake breakfast and some pretty great raffle items topped off the event. The participation of 67 Cross Country Team members of the CAL H.S. of Whitter was made possible by the sponsorship of Eskaton.
A special thanks to Rachel Bramson for organizing this amazing race.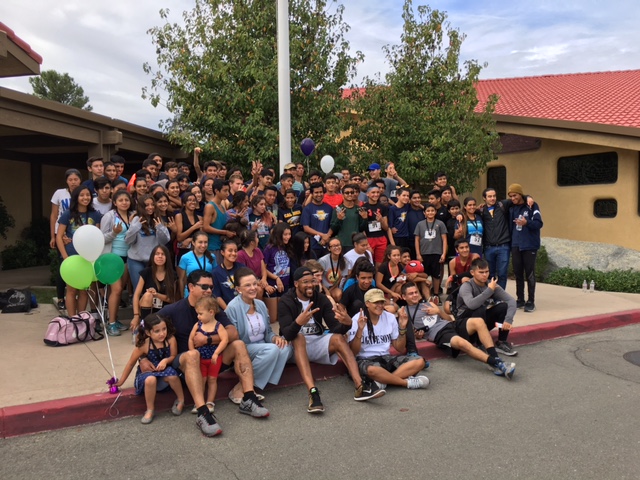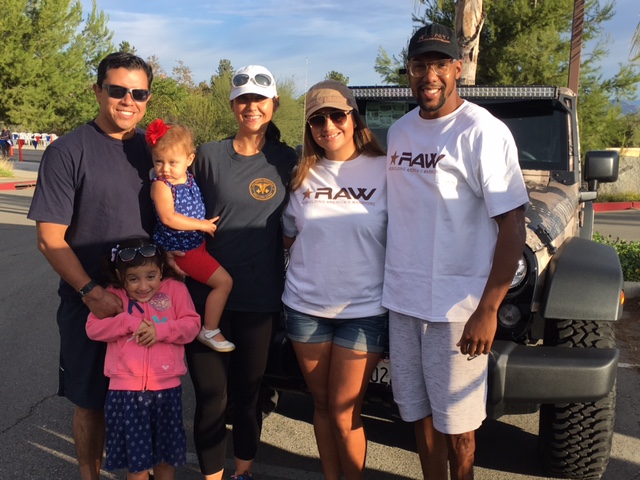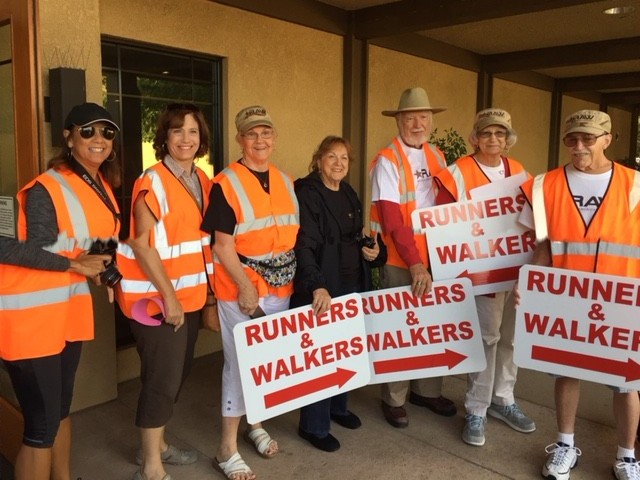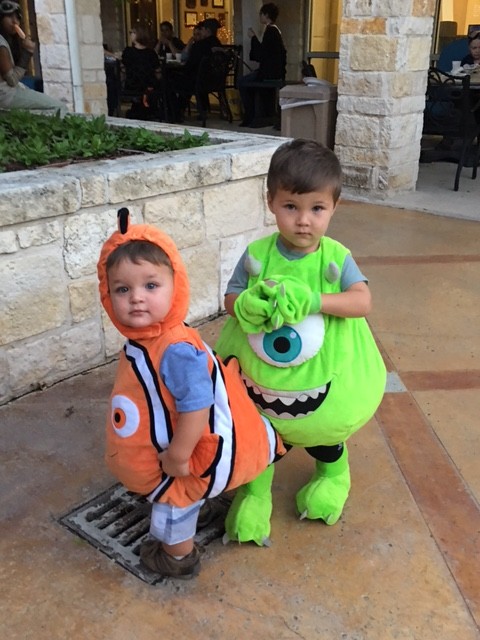 On Oct 28th RAW was one of 4 Sponsors of the annual Halloween Party at Brooke Army Medical Center for all wounded and active veterans and their families. It consisted of face painting, games, haunted house, candy shack, hay rides and a huge barbecue. Over 400 attended with prizes for best costume, two competitors are pictured here. It's a night for children and all adult worries are set aside.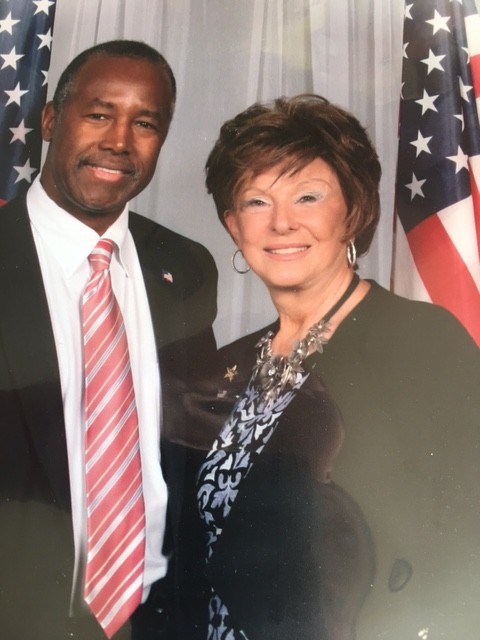 Ben Carson was the guest speaker at the annual Combat Veterans For Congress event held in San Diego. I had the opportunity to meet him and was deeply impressed by his genuine character. Joe Arpaio also attended.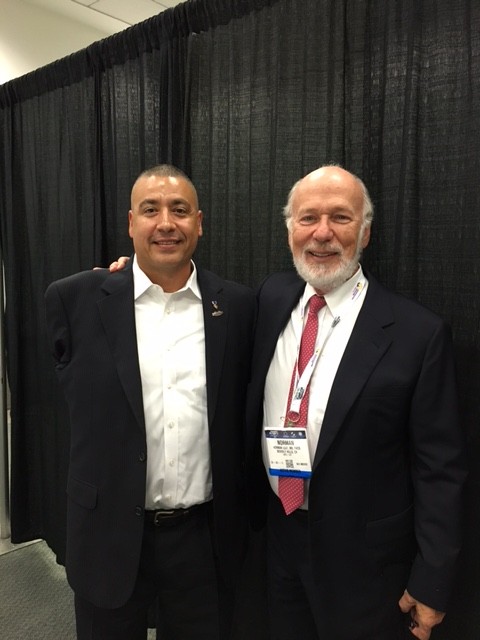 On September 26,
Army Veteran Norby Lara
was recognized by the
American Society of Plastic Surgeons, ASPS
, at their national convention in Los Angeles, as their nationally selected recipient of the PATIENTS OF COURAGE award. This award is granted to the wounded veteran who has recovered and gone on in his life to give back to his community. Norby has spent the last several years honoring his fallen warriors with bridges and highways named after those who did not come home. Norby was seriously wounded in June of 04 when an RPG struck the humvee he was riding in, his right arm was severed and he suffered extentsive abdominal and lung injuries. He is shown here with Dr. Norman Leaf, Medical Director of RAW, and the doctor who submitted Norby's name to the ASPS for this recognition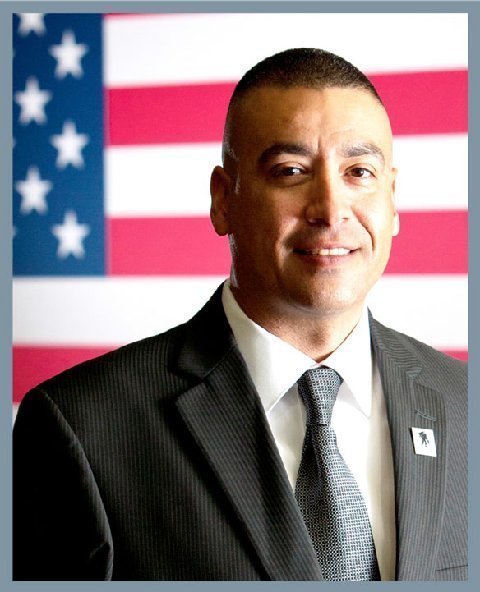 RAW is proud to announce that Army veteran
Norbie Lara
, wounded in Iraq in 2004 resulting in the loss of his right arm as well as major lung and abdominal wounds, has been selected by the American Society of Plastic Surgeons as one of three Patients of Courage and will be honored at their September 23rd Opening Ceremonies of their yearly convention in Los Angeles. Norbie was selected on the basis of his Triumph Over Adversity and the charitable actions he has taken that have positively influenced lives around him. Norbie has been the incentive for a bridge being named after a fallen hero as well as a highway. He is active in building veteran suicide awareness and Operation Enduring Warrior Athlete. Norbie is a member of the RAW family in that he has received two reconstructive surgeries by RAW's surgeons. Congratulations Norbie.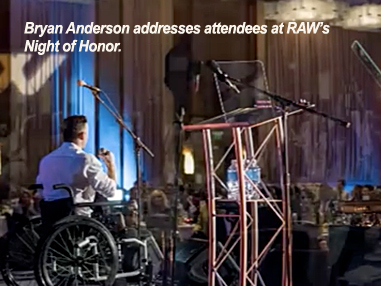 February 20 was RAW's
Night of Honor
. Veteran
Bryan Anderson
was the honoree and the event was attended by many former RAW recipients, emceed by former Dodger first base man and RAW Director, Ron Fairly. Many celebrities and Military "stars" were in attendance including Lt. Col Danny McKnight and Gen Earl Halston and the grand finale was a performance by the Gatlin Bros band. The night was featured next day by a full page report in the Desert Sun.
Click here for more highlights!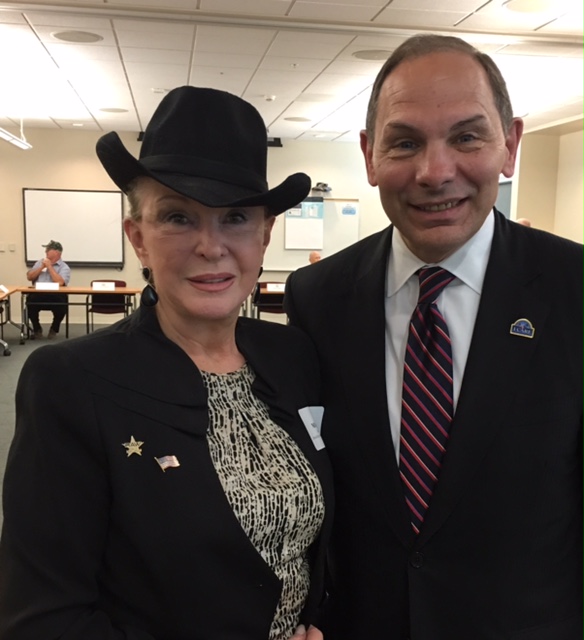 On June 2nd, 2016, Maggie Lockridge, Pres. of RAW, met with Secretary of Veterans Affairs, Robert McDonald. The meeting was arranged by Congressman Raul Ruiz. It is RAW's hope that the outcome will be the referral to RAW and it's plastic surgeons of all wounded veterans suffering disfiguring wound sites. The VA is excellent with structural and functional surgical reconstruction but is limited on its number of experienced plastic surgeons. This would be an agreement based on national V.A. involvement.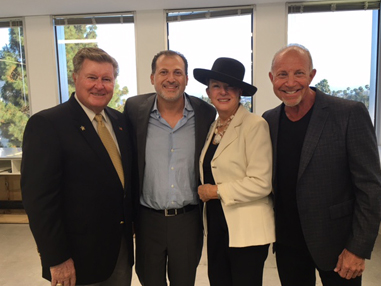 Open House for the
Beverly Hills Dental Laboratory
, Sam Alawie owner. Sam's new office is 8000 sq ft and has Beverly Hills at its feet. Sam and his technicians make all of the prosthetic teeth for RAW's wounded veterans nationwide. RAW is deeply indebted to him
Pictured is Ron Fairly, RAW Board of Directors, Sam Alawie, Maggie Lockridge and RAW volunteer dentist Dr Larry Rifkin.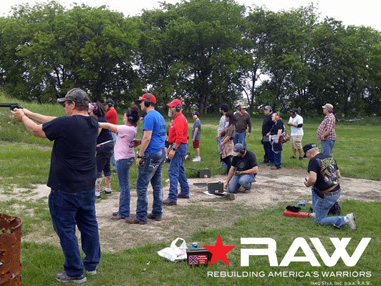 RANGE DAY Fundraiser! On April 16th, 2016 Ron Przybylski , owner of the Ronski CHL Course in Waxahachie,TX sponsored RANGE DAY in honor of RAW. Over 80 attended this range shooting event and over $2300.00 was raised for RAW's mission.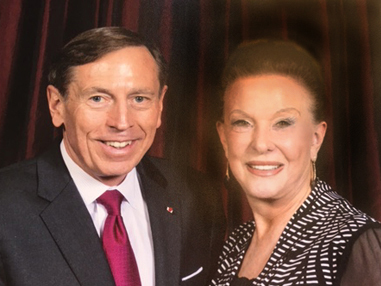 Maggie Lockridge, President of RAW, met General David Petraeus at the Desert Forum Townhall held in March of 2016 at the Esmerelda Hotel, Indian Wells, CA. General Petraeus was the primary speaker that evening and discussed the high and low points of the Iraq war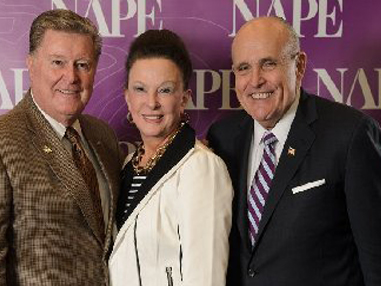 In February RAW was the recipient of a welcome donation from NAPE, America's largest oil and gas marketing association. NAPE sponsored the two day expo at which RAW presented a booth to build awareness of its Mission. The exhibit is attended by 60,000 people annually so many brochures were handed out.
Mayor Rudy Giuliani
was a special guest of this event and is pictured (left) with RAW's Board of Director member Ron Fairly and Maggie Lockridge RN, President.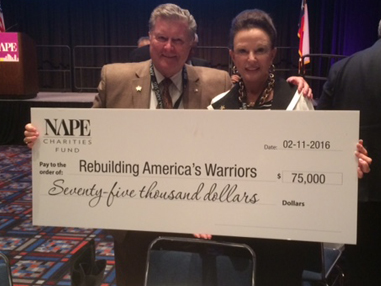 On February 11, 2016,
Rebuilding America's Warriors
received a $75,000.00 donation from NAPE, the world's largest international marketplace for the oil and gas industry. There were 11,000 attendees at this SUMMIT meeting held at the George R. Brown Convention Center in Houston TX. Each year three organizations whose Mission is to better the lives of America's veterans are selected as recipients of this generous gift. Pictured is RAW Board of Director's member
Ron Fairly
and RAW President and Founder,
Maggie Lockridge RN
.
On December 17th RAW was presented with a Grant from
The Allergan Foundation
during a Christmas Party at Allergan's Irvine headquarters. It was presented by Gwyn Grenrock, Executive Director of the Foundation, over 1200 were in attendance with full Color Guard. Paul McQuigg, Veteran U.S. Marine Corps, and a RAW warrior, also attended with his wife, Holly.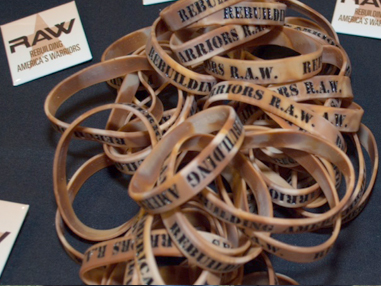 HONOR BACK THIS SEASON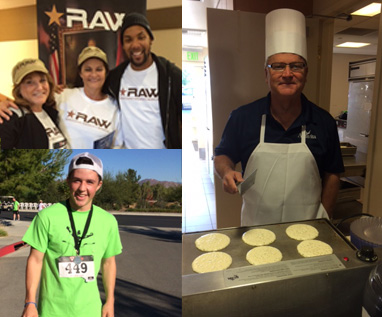 RAW was the recipient of funds raised by a
5K Run For RAW
held by the Altavita community in Riverside, CA It was sponsored by Debbie Gregory of Military Connection and Kay Conway of Altavita. (Pictured at upper left) Over 100 runners participated including LyVell Gipson, upper left, on right)) , a friend of RAW and veteran of the Iraq war. The run was held in the Altavita Community and had runners from the ages of 4 to 84. Number 449 won the race. Everyone finished the race and enjoyed a pancake breakfast and awards ceremony.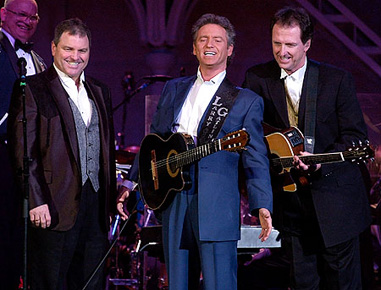 Larry Gatlin and the Gatlin Brothers
will celebrate their 60th Anniversary Celebration with a special appearance at RAW's A NIGHT OF HONOR on Feb. 20th, 2016. They have been dazzling audiences since 1955, had eight #1 songs and were initiated into the Grand Ole Opry. Larry, Steve and Rudy still touch the lives of fans from eight to eighty.
Doctor Gerald Crouch DDS MAGD, of San Antonio
, submitted RAW as a recipient of a donation offered yearly by the Academy of General Dentistry in San Antonio, TX. Dr. Crouch provided dental restoration to two of RAW's veterans infected with a bacteria that destroyed their teeth while deployed to Iraq. His services were pro-bono to our veterans and altered the paths of their lives. Dr. Crouch is shown accepting a check in the amount of $1,500.00 on RAW's behalf at a monthly meeting.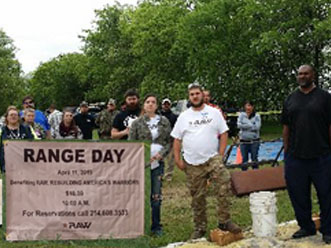 On April 11th, 2015, Georgia and Matt Blits organized an event titled
RANGE DAY
held at an outdoor shooting range in Waxahazhie, TX, a small town near Dallas. Matt is an Army Veteran who experienced dental problems while stationed in Iraq, he received dental restoration from Dr. David Wilhite, a RAW volunteer dentist. For $10 the attendees enjoyed a day of shooting. Auction items were also donated by local businesses and over $2,100.00 was raised for RAW. Thank you Georgia and Matt, RAW salutes you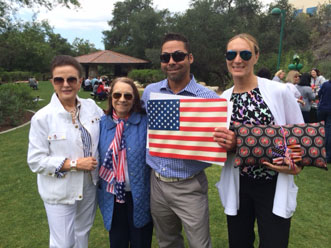 On May 21, 2015
Apria Healthcare
held a Memorial Day Picnic for its employees in Nature Park adjacent to it's Lake Forest headquarters. Each year they select a wounded veteran and his/her family to honor. This year RAW Marine wounded veteran
Paul McQuigg
was honored and received the proceeds of the day's raffle. A check for $2,543.00 was presented to him. The picnic included a rocking D.J., terrific food, and a raffle with items ranging from TV sets to $200 credit cards. Tickets were sold for $1.00 and, obviously, over 2500 were sold. The skies were blue, the attendees feasted, and the McQuiggs honored throughout the event. Maggie Lockridge, RAW President, and Ron Fairly, RAW Board of Directors also attended.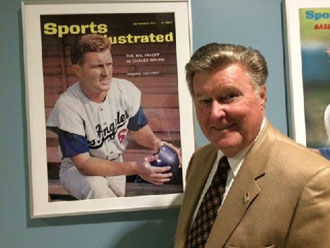 Ron Fairly, Board of Directors member of RAW, at the 50th reunion of the
Dodger's World Series
win in 1965. That's Ron the right standing in front of his Sports Illustrated cover. Ron played for the Dodgers for ten years and then was a Sports Announcer for a 50 year career in baseball. He played in four World Series, winning three.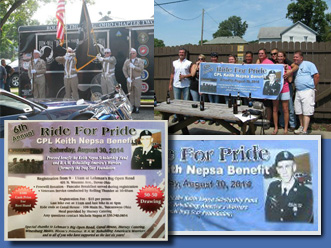 Cpl. Keith Nepsa was killed while serving in the Army in 2007 in Iraq. His mother, Michele Nepsa, keeps his memory alive each year by holding a Ride For Pride. This year marked their 6th ride with hundreds of motorcycles taking part including Rolling Thunder. The event begins with a Veteran's Service conducted by Rolling Thunder, a huge breakfast, a Patriotic Ride For Pride, and a hearty dinner. R.A.W. was one of the recipients of the funds raised. A check in the amount of $6,800.00 was presented to RAW in Keith's memory. Thank you, Michele.

Dr. David Wilhite, a RAW volunteer dentist having provided dental restoration to 29 veterans, is shown accepting a donation to RAW from J. Alton Brown, Commander on the right, and Horace E. Schroeder, Legionnaire of the American Legion Post 53 in Dallas, on the left. The presentation took place in Dr. Wilhite's office in Plano, TX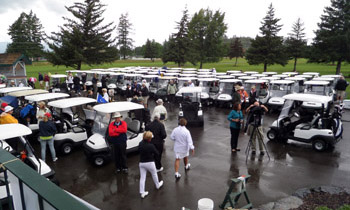 Chesnos Golf Tournament On August 16th,2014, Frank and Kathie Chesnos held the Chesnos Invitational at the Eagle Bend Country Club in Bigfork MT for the purpose of raising funds for RAW. It was a three day event starting with a dinner on Thursday evening, trip up Glacier Mtn. on Fri., dinner on Fri. night, breakfast on Saturday morning followed by the tournament on Sat. afternoon. The dinners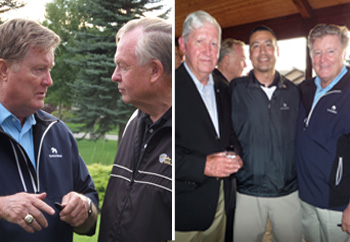 were given by members of the Desert Horizon Country Club in Indian Wells as over 15 couples travel to Bigfork for the summer. Attending the event was wounded RAW warrior Norbie Lara who played a very competitive 18 holes and all players started their cart's engines in the rain. The sun soon shone and the prizes were presented at a dinner attended by over 180 people. Retired Marine General Don Humphrey, Retired Arrmy General Paul Vallery, and retired Air Force General Tip Clark all attended to support RAW. The support shown RAW by the people of the community, the warmth of their welcome, and the $50,000.00 raised, had the attending RAW Board Members Maggie Lockridge and Ron Fairly, deeply moved.
(Photos: Right at top, participants in 70 carts lead off the tournament. Below, left: Ron Fairly, Dodger, Announcer, and Raw Board Member, talks to retired Army General Paul Vallery. Below, right: Retired Marine General Don Humphrey visits with RAW Warrior Norbie Lara, and Ron Fairly)
As you visit our website, you will be able to meet and hear the stories of a few of our wounded warriors. R.A.W. is supported by individuals such as yourself -- PLEASE donate.